Food for Thought with the Taste Buds
Food for Thought with the Taste Buds is an engaging radio program focused around food and beverage, highlighting various topics within dining, cooking, and recipes, complete with fun interviews, and a general overall love for food! The show is broadcasted live every Sunday from 10:00am-12:00pm on "The Pulse" 107.7 FM. Unlike most radio shows, Food for Thought with the Taste Buds broadcasts from a beautiful glass-front studio in The Beacon Building on 814 Elm Street in Manchester. This studio offers unique live audience interaction opportunities, so come and join us as we dish up the daily episode of Food For Thought.
Carol Lawrence-Erickson, Co-Host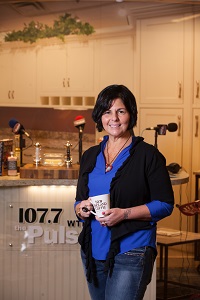 Carol Lawrence is the Owner of Red Arrow Diners in Manchester, Milford and Londonderry. She has over 30 years of experience managing and marketing of various restaurants, including her own. Carol is an active supporter on the Board of Directors for Challenger Sports in New Hampshire. Among her many charitable interests, Carol and the Red Arrow Diner are avid supporters of New Hampshire Association for the Blind and Compassionate Friends.